Teacher Spotlight: Ms. Gerardi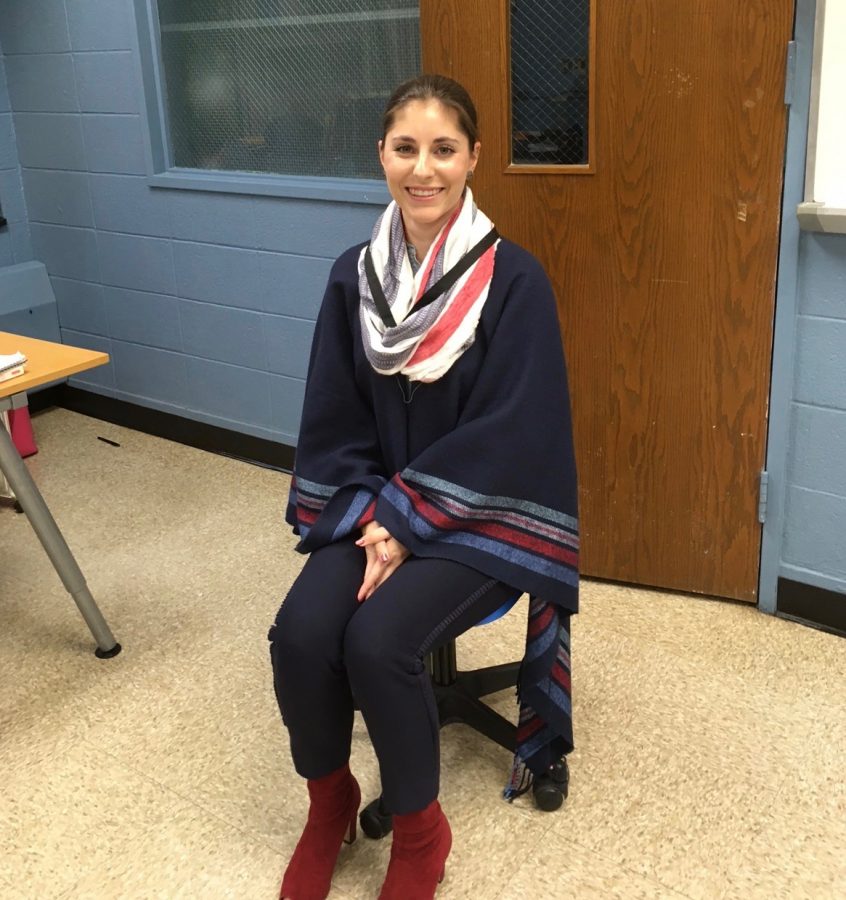 With Mr. St. George assuming the role of Academic Dean and the departure of French teacher Ms. Lataille, Xavier hired two new teachers in the English and Foreign Language departments for the 2019-2020 school year. The Kestrel received the opportunity to interview Ms. Gerardi, a new addition to Xavier's faculty, who teaches French and CP Intro to Lit at Xavier. Upon entering Ms. Gerardi's classroom, we were greeted by robust French decor and were seated in scrupulously organized desks, worthy of the praise of the most obsessive-compulsive individuals, where we uncovered and discussed Ms. Gerardi's past of speeding on motorcycles in France, her self-termed habit of "procrasti-baking," and more.
Q. Can you share a little about your early life? Where did you grow up?
A. I grew up in Connecticut – I lived in the same house my whole life and never moved. I went to public schools, and I really liked being in school. I grew up with my two brothers who are pretty close in age to me as well as all of my cousins, who lived around me as well, so often after school and on weekends I'd hang out with all of my cousins. I liked to be active all the time – I started dancing and cheerleading and running, so I was always doing something after school.
Q. Where did you attend college and what did you study?
A. I went to Fairfield University for my alma mater and I studied French and Secondary Education. Partway through my bachelor's degree, I moved to France as part of the study abroad that just kind of never ended, and I finished my Fairfield degree over in France. From there I continued into doing an MA in French and teaching French as a foreign language at the Institut Américain Universitaire in Aix-en-Provence.
Q. What brought about your passion for French?
A. I guess my first French teacher. I had her when I was thirteen-ish years old; the beginning-end of middle school was when I started taking French. I had actually taken Spanish before that, but I think I was a little too confident in myself – I was getting bored in Spanish class because I was finishing all the work early and I was looking for a challenge. So, the next year I was thinking, "You know what, I think French is probably a little harder." And it was. And I think I got a little bit addicted to this challenge of trying to figure out how to pronounce the words correctly and how to use the grammar correctly, structure sentences, and it just sounded so pretty. It was like an addicting puzzle.
Q. What made you want to be a teacher?
A. I don't know what made me want to be a teacher. Since I was little, apparently that's one of the only things I ever said I wanted to be according to parents and people who were close to me. They would ask, "What do you want to be when you grow up?" and one of those things was always "teacher." I went through phases of not knowing what type of teacher, and then when I settled on upper-level education (either college or high school) I had to think about what subject I want to teach. It was really hard to figure out what I wanted to do, even though at the same time I was taking French and really enjoying it. It took me a couple of years to make that connection.
Q. How has your transition to Xavier been? Were there any challenges?
A. In terms of student body population it wasn't too difficult because in France I was teaching at an engineering school and at a school that was based in design and animation, so the populations that went there were typically young men. In terms of adapting, I've had to do a lot of things because I didn't have to prepare as much teaching at the college level. I could give the students an activity with no warning and know that they'd be able to handle it, whereas here I'm getting more used to telling them if something is coming up, making sure that my lesson plans are more detailed and that I'm thoroughly going through whatever verb tense we're learning or whatever vocabulary section we're learning. I kind of like it, though, because it helps to keep me on track in terms of the lesson plans. I think the only thing that I have yet to get used to is the drive.
Q. What do you like to do outside of school?
A. Every day I run. I really like to go to the gym, run around. I'm very excited now to do some seasonal, Connecticut things, so I really want to go apple picking. I do something that I call "procrasti-baking," so if I have work to do and I don't really want to do it I will bake something, and while it's in the oven I will do the work that I'm supposed to be doing. I also like to cook. It's not really the season anymore, but I have a huge vegetable garden and I love being able to just go outside and pick some tomatoes or whatever other vegetables I have and eat them. When I lived in France, I traveled around a little bit, just day trips/weekend trips because I had a motorcycle. I miss having a motorcycle, but [my husband and I] haven't had a bike since the spring because we sold the last one.
Ms. Gerardi is also looking to sell her 2012 MacBook Pro and iPhone 6, so if you're in the market for an outdated Apple device, you might want to consider talking to her. The Kestrel would like to wish Ms. Gerardi ease in her transition to teaching at Xavier and hopes that she will be blessed with many fruitful and prosperous years as a member of the Xavier community.