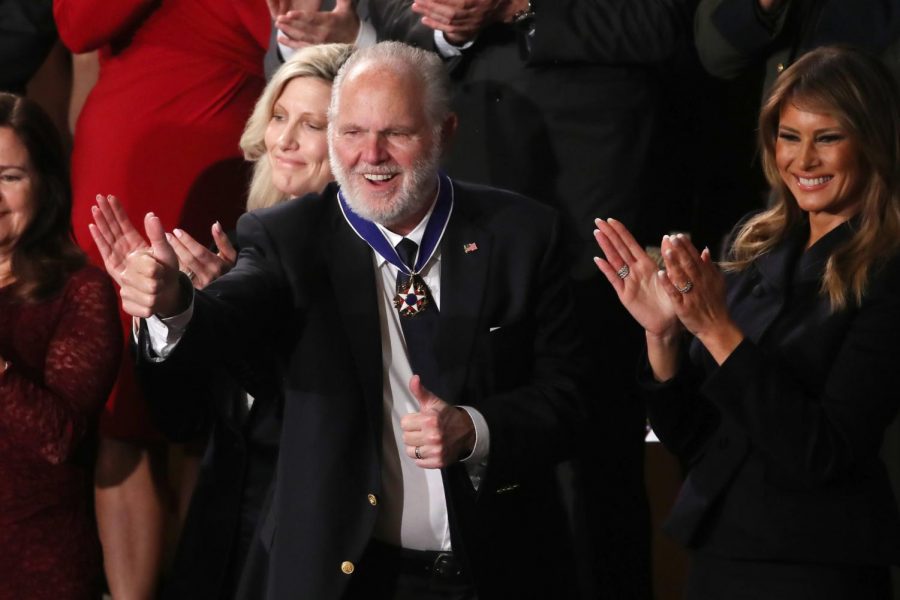 AFP via Getty Images
Among the many notable guests that the president hosted at the last State of the Union address, one stands out above all others. That man is Rush Limbaugh, a conservative commentator whose recent lung cancer diagnosis has brought him into the spotlight yet again. Surely, I do not mean to suggest that Limbaugh's career has distinguished him. Rather, it is the honor that he received during the address that set him apart. The moment Mr. Trump took during his speech to describe Limbaugh as a "winner" and the "greatest fighter" before awarding him the Presidential Medal of Freedom was manufactured to be memorable. It was met with great acclamation from the chamber, specifically from those on the right side of the aisle.
Limbaugh has run the nationally syndicated Rush Limbaugh Show since 1988. No tyro to controversy, his vitriolic rhetoric made him popular with the bucolic crowd of Middle America. As seen when he gleefully christened Barack Obama "Halfrican American" in the heat of the 2008 campaign, this is man has made a career out of calumniating politicians with whom he did not agree using racist stereotypes and innuendos. Now awarded America's most prestigious civilian award, he finds himself among the few in the nation that have been deemed worthy of such a refulgent honor, among them Maya Angelou, Martin Luther King, and Rosa Parks.
Limbaugh, appropriately dubbed 2012 "Misinformer of the Year" by Media Matters, follows the typical conservative playbook of vacillating between two seemingly contradictory characteristics. The first concerning an insufferable kind of pedantry, like when he can cite statistics off the top of his head that seem to suggest black males are more likely to drown in pools than whites. The other is an unremitting criticism of his perceived enemies, usually peppered with racist stereotypes and epithets. This may appear to be a harsh characterization, but when it is revealed to be about a man who repeatedly referred to NBA players as "thugs", it becomes evident this is not the case.
Over the years, Limbaugh has proven himself to be insensitive about so much more than racial issues. He has also made light of people with debilitating diseases, as well as women fighting for equal access to healthcare. In one 2006 segment of his show, he denigrated actor Michael J. Fox, who had been diagnosed with Parkinson's Disease. Limbaugh reacted to this news by breaking into a mock paroxysm and shaking violently after accusing him of exaggerating its effects. He also referred to law student Sandra Fluke as a "prostitute" and "slut" after she had addressed Congress to advocate for a bill that would mandate birth control being covered by insurance at religious institutions.
The White House states that the Medal of Freedom is bestowed upon those "individuals who have made especially meritorious contributions to the security or national interests of the United States, to world peace, or to cultural or other significant public or private endeavors." Limbaugh was thanked for his "decades of tireless devotion to our country." Just which of his paltry contributions to our country he is being honored for remains an open question. Perhaps it is the death of the civil discourse his radio show inches us closer to every day, or it may be his role in disseminating the idea that "race riots" were a part of the Obama administration's plan for America.
Trump has gone on record stating that he enjoys granting the nation's highest civilian honor to his friends. While there is nothing wrong with this in theory, the president should exercise more prudence in who he chooses to present this award. A man such as Limbaugh quite frankly deserves nothing more than a vituperative condemnation for the manner in which he has conducted himself over the course of his career.