A Tribute to Juice WRLD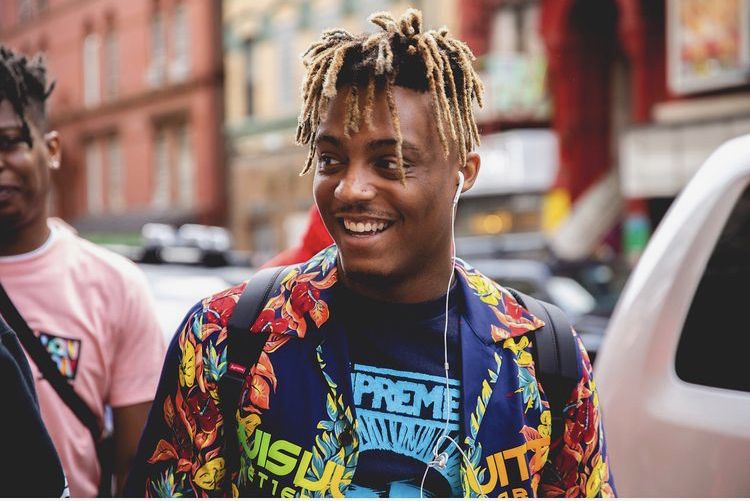 The first rap song I ever focused on committing to memory was Juice WRLD's, "Lucid Dreams." When the song came out in 2018, I felt immediately connected to the person singing behind the mic, as did millions of others. It was the expression of pain in his lyrics, the way he delivered them, and the love for his fans that established this unique connection. On October 6, 2018, "Lucid Dreams" would peak at 2nd on the Billboard Hot 100. The question begged to be asked though, did the pain in the heart of the artist caused by more than heartbreak?
December 8th, 2019. I remember it being an early Sunday morning. My mom dragged me out of bed to go to CCD class. Begrudgingly, I walked into the doors of the church into class. I had absolutely no interest in being there. The class was about an hour long, give or take. About a quarter of the way through, I feel my phone in my pocket violently buzzing with notifications. I thought nothing of it. As I had been doing the whole class, I snuck a peak down onto my phone. Immediately, emblazoned across every headline I viewed read, "Rapper, Juice WRLD is hospitalized after suffering a seizure at Midway International Airport."
Later on, I opened my phone to check the Juice WRLD's status. I opened an article that began with a tweet. "The medical examiner's office has determined the cause and manner of death of 21 year old Jarad A. Higgins. Higgins died as a result of oxycodone and codeine toxicity. The manner of death is accident." I refused to believe it. I open Snapchat and Instagram. Both my feeds were flooded in an outpouring of tributes to Juice. I attempted to gather myself, took a deep breath, and slowly composed a slow, somber, "no."
With tributes pouring in from around the world, Juice WRLD's fans did what they had learned to love to do, listen to his music. Rolling Stone reported on December 11th, just three days after his death, that his streams had exponentially increased by 487 percent. Over 38.2 million people were listening to his music, and "Lucid Dreams" hailed at the number one most listened to song in the world. Juice's first two albums, Goodbye & Good Riddance, and Death Race for Love, led in albums sold, and he was the number one artist in terms of digital song sales.
I remember those days and months after Juice's death. I would sit in my bed, put my airpods in and just listen. For the first time listening to music, I did not focus on the beat, or the lyrics, or the melody, I paid all my attention to the person singing behind the microphone. I heard the pain of the voice of the man, the struggles with anxiety and drug abuse. On Juice WRLD's first posthumous album appropriately titled, Legends Never Die, on the track "Wishing Well" he raps, "If it wasn't for these pills I wouldn't be here But if I keep taking these pills, I won't be here, yeah." It took me a while to understand this sad truth. Use of drugs is rampant across rap, but what was unique about this bar from Juice was that he was relating it to a true pain he experienced within himself. One which he expressed through his music. In an interview with NME he said, "A lot of men make fun of you for expressing your feelings because they don't get it. They can't wrap their heads around the concept of being completely honest and forthright." Being honest, for Juice, was using music as an outlet for his struggles in his life.
One thing must be made abundantly clear, more than anything in the world, Juice loved his family, his fans, and his girlfriend, Ally. As much as we focus on Juice's music being an escape for him, it must never be discounted that he continued his pursuit of music for his fans and as a show of love to Ally. For me personally, this is what I connected to most with him. Juice loved others. He used his music not only as an escape for himself, but one for his fans and those who knew the struggles he was going through. "I feel like I inspire more people than I think I do. I just need to remember that."
At the time of writing, it is 3:24 in the afternoon on December 8th, 2020, if you can remember that date from the beginning of the article. Exactly one year ago today, Juice WRLD passed away. Obviously, the world is in a completely different state now than it was then. I would like to think that without the virus, there would be dozens of artists expressing tribute to Juice in concert around the world today. However, this is not the state we find ourselves in due to the virus. Because of this, I knew I wanted to pay tribute to one of my favorite rappers through the same way he taught me, use of emotion. For Juice, it was his music. For me, it is writing this article. This is now my second article for the Kestrel. If you've made it to this point in the article, I want to sincerely thank you for reading it, and if you've never heard Juice WRLD's music, I would very strongly encourage you to listen to it. Finally, for those fellow fans of Juice, I hope one day in the near future we'll all be able to listen to his music again together. Thank you Juice. 999 Forever.