Cubs End 108 Year Drought
After surviving a grueling World Series, the Cubs emerged as the victors for the first in time in 108 years. It was well deserved, showing the new the manager, Joe Maddon, has really made a difference.
Even with immense pressure, the Cubs emerged as the champions, as only the sixth team to outlast its opponents when losing 3-1 in a best-of-seven World Series. They fbeat the Cleveland Indians 8-7 in the apex of the season, the final and seventh World Series game.  This consequential game  was destined to be the most riveting, and the Cubs needed to perform. The Cleveland Indians made a comeback in the eighth inning, breaking the Cubs' early lead of three. It appeared the Indians were in control, and the Cubs would succumb to emotional breakdown once more. At the top of the tenth inning, the sky opened, delaying the potent match, resulting in heightened suspense and anticipation.  Jason Heyward, the Cubs right fielder, knew it was time to speak up. He galvanized his teammates while they waited inside, convincing them that they could "pull this thing out". And they definitely did. Ben Zobrist hit a double to the third base, allowing Albert Almora Jr sprinted to home base. All was not over. But when Michael Montgomery nailed down a groundout, the Cubs were relieved. The Cubs fans could finally erupt in cheer, having caught the elusive golden goose that had evaded them for so long.
After their tremendous victory, even President Obama, a fan of the rival Chicago White Sox, congratulated the Cubs.  However, all was not so merry for the Indians. For the third time since 1948, they were one win away from a World Series title. They themselves inherited the longest championship drought. Nobody, though, can argue with the well-earned victory of the Cubs.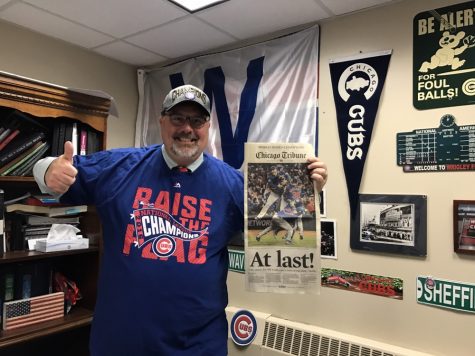 Mr. Sizemore, a well-known Cubs fan at Xavier, had some words to describe the epic victory: "It's extremely emotional. I was both very happy and crying tears of joy for family no longer with us who did not live to see the victory."
The win was emotional, and will be remembered as the ultimate comeback story in history books to come.