January 9, 2020
Unless you rely strictly on the Xavier Kestrel as the only reliable source for world news (a sensible and commendable choice, I would say), you very well may have heard or seen some mention of "5G," the fabled fifth generation of mobile broadband that, according to legend (and the decree of tech moguls),...
October 17, 2019
Just over two weeks ago, Xavier baseball player Luke Lappe committed to the University of North Alabama, a Division 1 school in the Atlantic Sun Conference. As a sophomore on varsity last season, Luke hit Xavier's only home run and led the team in RBIs. He also garnered SCC All-Quinnipiac honors. As...
Quarantine Meme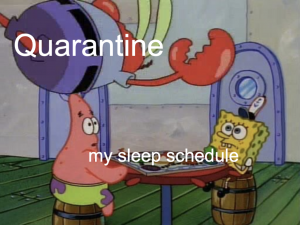 News correspondent Will Foster surveys outgoing seniors about college choices.
April 24, 2018
News correspondent Xavier Jones interviews past and future Guatemala volunteers about their experiences during and/or anticipations for the Guatemala service...
April 4, 2018
We are here to discuss with you our brand new product! Construct Tape! For only $19.99 this could be yours!
January 29, 2018

Loading ...