This past month of October was the twelfth anniversary of the passing of Xavier High School Alumni Chauncey Hardy. It has been left to the faculty and staff who taught, coached, and loved him to share his story with those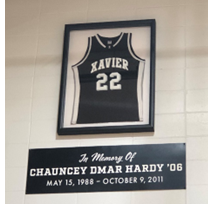 who choose to listen. Mr. Kohs, Mr. Garrity, and Mr. Braychak are three such teachers who knew him on a particularly personal level. They have told me all about him and his story. After talking with them, I feel that, although his story may be a sad one, the best way to honor Hardy is to make sure that as many people as possible can learn about who he was. Hopefully, this article will do so for many years to come.
For those who do not know him, Chauncey Hardy is widely recognized as one of, if not the best, basketball player to ever play for Xavier.
"In my time, he was definitely the top two or three, without question. But, if you went inch for inch or pound for pound, Chauncey's the best player, because he was a great basketball player, and he was only six feet tall if you stretched him." – Mr. Kohs
"Chauncey was the best basketball player ever to go through Xavier High School that I've watched. And there's been some good ones." – Mr. Garrity
"He was easily the best basketball player that I have ever seen at Xavier." – Mr. Braychak
All these teachers have seen many student athletes come through Xavier over time, yet they agree to recognize him as one of the best of the best. But what made him such a great player?
To start, when Hardy transferred into Xavier as a sophomore, the first time Mr. Kohs saw him play, he knew he had just witnessed some incredible talent. Mr. Kohs told me, "I came in and there they were playing intramurals. He had this game going on that side-court at that far basket. I walked in the gym and the ball came off the rim and he grabbed it, one handed, off the rebound, and stuffed it back home. And I'm like, who the heck is that kid? He was absolutely incredible." For some context, he was only six feet tall, which means he had jumped about half of his height or more to do so. At the same time, he was a great shooter as well. Mr. Garrity said that he even had a running joke with Hardy that "as soon as he walked in the gym, he was within range."
In addition to his astonishing physical traits and ability, he was also a smart passer and good decision maker. He did not just dominate the court himself, he did it with whoever was on the floor with him. Mr. Kohs mentioned that "he was the type of player that made everybody else on the court better. He was a point guard, and he could score at will, but he distributed the ball unbelievably well." He really was everything you could want from a basketball player.
With all this skill one might wrongly assume that he was always very confident and outgoing. Mr. Braychak explained, "He was quiet and a good student, not outgoing outside of basketball and you would not imagine that he was the same person on and off the court." Mr. Garitty echoed the same thought about Hardy and his teammates, "They do their work. They do what they're supposed to do. And you wouldn't even know they were here. Until game night." He was also extremely humble. Mr. Braychak shared that when he had asked Hardy to send Mrs. Braychak and him his Sacred Heart basketball schedule, Hardy seemed shocked at the request and was surprised that they would want to continue to support him and see him play.
Nonetheless, on the court, he and his teammates were not shy. By his junior year, the Xavier basketball team was as good as it ever has been. Mr. Kohs recalled, "We went 18 and 2 in the regular season. That was the best record of a team that I had in my time. We lost twice to Hamden, both in closed games." They continued their success into the postseason, finally beating Hamden in the championship game of the SCC Tournament, of which Chauncey Hardy was MVP. Going into the State Tournament, they had earned themselves the sixth seed. They ended up losing in a hard-fought semifinals game to Crosby who ended up winning the State Championship.
"Over the summer, he was offered a full Division I basketball scholarship with Sacred Heart [University], and he accepted and signed that during the early signing period in November [Senior year]", said Mr. Kohs. Then, Hardy got into some trouble off of the court which resulted in a suspension and Hardy not playing in that season. Thankfully, he had played well enough in his junior year to have already gained the attention of colleges. Mr. Kohs told me, "After this happened, they [Sacred Heart University] said, you know what, if you stay at Xavier, and work on your grades, we're still going to honor that scholarship. He knew his ultimate goal was to play in college so, he elected to stay at Xavier, got his grades where they needed to be, and graduated from Xavier. And that's one of the reasons why I was so proud of him." Mr. Garrity agreed that Hardy made a good decision and "was heading to the right place." They were right. In his four seasons at Sacred Heart, Hardy had played very well, starting about 70% of the games he played and scoring over twelve hundred total points.
"Here's what I've learned about the kids who play at the highest level. You have got to be lucky. You have got to be healthy. You have got to land in the right place. And each kid, every single one of them, has their own story of their trials and tribulations." – Mr. Garitty. Being lucky and being in the right place were especially true for Chauncey Hardy. Mr. Kohs explained how Hardy became a professional, "A Romanian professional team was scouting game film, of Long Island University in a game against Sacred Heart. They wanted this kid who played at Long Island University, LIU. In the game film, they notice Chauncey, and they're like, who the heck is this kid? They contact Sacred Heart and ask, 'where is this kid, what is he doing now?' They put them in touch with Chauncey and they signed him to a contract."
Unfortunately, this is where Chauncey Hardy's story takes a horrible turn for the worse. He won his first two games with the professional team, ironically, scoring twenty-two, his jersey number since high school, points in both games. Then, after the second game, he and his teammates went out to celebrate. That night, Hardy was brutally assaulted at a night club and passed away in the hospital at the very young age of twenty-three.
This was devastating to everyone that knew him. As Mr. Kohs puts it, "He was finally doing what he wanted to do. He loved being in the gym and playing basketball. It was his element and then he goes to do that for a living, making a paycheck, doing what he loves to do. To have that cut short for him was tragic, sad and just unbelievably heartbreaking." Mr. Garrity also pointed out, "Could the next step have been coming home and playing here? Who knows? Unfortunately, we'll never know."
In the end, no one can go back and change what happened, but what we can do is make sure that he is always remembered for who he was. Some may know that his Xavier jersey is currently hanging in the gym. Those who do know may think that it seems to be in an odd place. It is sort of tucked away in the bleachers and almost feels hidden. Mr. Kohs quickly cleared up this confusion, "It's where it's located because that's behind our team bench. We purposely put it there so that he is always with us on our bench." That makes perfect sense. It is not that he is being isolated or kept away from the other athletes' jerseys, which are on display in the hallway; it is where it is because he is forever part of the team. It also gives him the best seat in the house for the thing he loved most: basketball.
Now that you have read his complete story, I encourage you to tell others about him when you pass by his jersey. Explain why it is there or share a story that you read above. If anything, whenever you are in the gym, just think of him. I know that I will always be reminded of him when I am there. But most importantly, do not go right to what happened to him, but rather his achievements. The least he deserves is to be known for who he was and what he was able to accomplish.
Works Cited
"Chauncey Hardy Career Game Log: College Basketball at Sports." Reference.Com, www.sports-reference.com/cbb/players/chauncey-hardy-1/gamelog/. Accessed 29 Oct. 2023.