Robotics Seasons Starts in a Whirl of Steam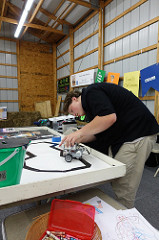 Hang on for a minute...we're trying to find some more stories you might like.
The Robotics Competition of 2017 has finally begun! This year's theme, being Steampunk, is an exciting theme that has been hyped within Team 4557. With the new game, FIRST Steamworks, having already been introduced among teams worldwide, Xavier High School's Robotics Team (The FullMetal Falcons) began brainstorming and quickly began work on the building process. The FullMetal Falcons are getting prepared for this long and hopefully fruitful season, and have been working to create a formidable and reliable team of passionate members.
The theme for the competition is Steampunk, and in this year's game, the two teams are tasked with preparing an "airship" for a long-distance ride. The two teams have to make a robot that can complete three different tasks. The first task would be to build steam pressure by collecting and adding "fuel," represented by yellow wiffle balls into the "boiler" through both high and low goals. The other task would be to start the rotors on the "airship." Robots will have to retrieve and deliver the gears to ports on the "airships," where a pilot will install them on the correct rotor. The final task would be to "prepare for flight" by having the robots climb up onto the airship via a rope. The winner of the round is the team that scores the most points during both the Tele-operated and the Autonomous periods–A 15 second round where the robot operates off pre-programmed software and scores points.
Our team is full of hope for this new season, and is ready to grind some gears. We are expecting to surpass last year's great year and make it to Worlds for the second time in team history. During the six weeks of build season, the Xavier students will work hard to steam the competition.
Picture taken by the Robotics Team