Five Things You Didn't Know About Mr. McGrath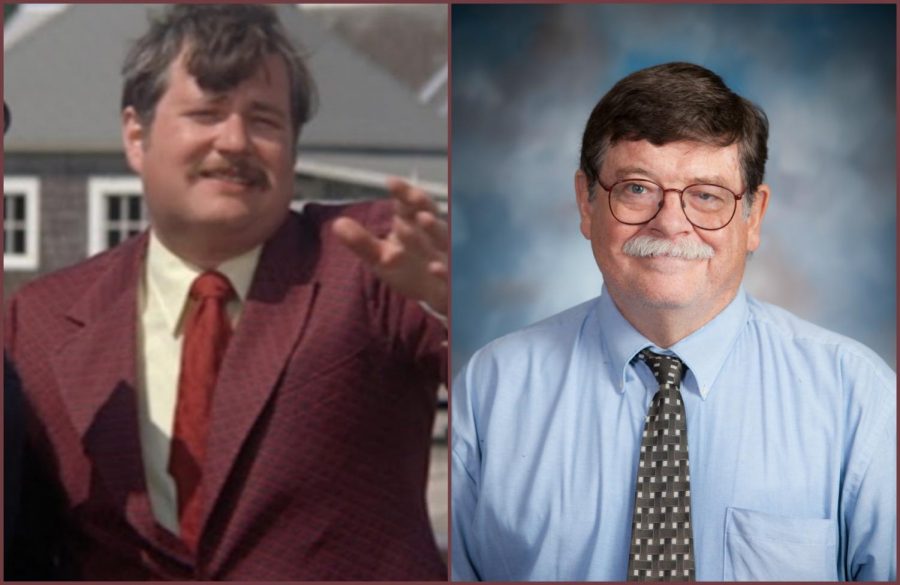 Mr. McGrath has been a teacher at Xavier for over fifteen years. Most know him simply as an English teacher or an extra in the movie Jaws, but there is more to him than what meets the eye.
1—Mr. McGrath started working at Xavier during the week of 9/11
In my interview with Mr. McGrath I learned this interesting fact. Exploring this topic further, Mr. McGrath revealed that on the day of 9/11, when news reports were still coming in about an incident at the World Trade Center, teachers at Xavier were instructed to turn off the TVs. Mr. McGrath said the administration wanted to reduce the possibility of panic breaking out. Either way, Mr. McGrath said that it was a day of great change, for his own life (working at Xavier) and the world.
2—Mr. McGrath starred in other films besides Jaws
Mr. McGrath was in his mid-twenties when he starred as an extra in the 1975 film Jaws. Besides that, he starred in a thesis film directed by his friend and then-Yale student George Hickenlooper. The work, titled Newark Needs Insurance, was about a nuclear device that had been smuggled into the US. Mr. McGrath played the role of a reporter in that student film. (Mr. McGrath's friend later went on to make the 1991 award-winning documentary titled Hearts of Darkness: A Filmmaker's Apocalypse, which explored the making of the war movie Apocalypse Now. Hickenlooper passed away in 2010.)
3—As a child, Mr. McGrath wanted to be a farmer
Or an archeologist. He doesn't know why he wanted to be either of those things, but it definitely wasn't an English teacher.
4—Mr. McGrath is a wannabe pointing dog field trialer
Pointing dog field trials is a classic animal competition that involves dogs finding objects (usually small game, such as birds) in the woods—displaying their hunting/searching talent. The act of "pointing" is when dogs become still with their snout facing the object. It often requires extensive training on the dog's part. Mr. McGrath says he has always had a love for field dogs and wants to be a pointing dog field trialer (the name given to the trainers of the dogs who partake in the trials), but says he just doesn't have the time.
Mr. McGrath has two English Setters at home who are field dogs.
5—Mr. McGrath is a movie buff rather than an analyst
As teacher of the Performing Arts elective, it isn't surprising that Mr. McGrath likes movies. Surprisingly, he doesn't have a favorite movie, but one movie that particularly moved him as a kid was a 1957 Disney film called Old Yeller. It's about a boy and his dog, (spoilers!) whom he has to later kill at the end of the movie. When asked whether he likes books or movies better, Mr. McGrath wisely answered that both have their merits. He said that classic movies are far more enjoyable than classic books, yet he also said nothing can triumph the joy of human imagination.
Mr. McGrath didn't rule out analysis of movies entirely, commenting that good movies can be as equally thought-provoking as good books.
Bonus—other facts about Mr. McGrath (both inside and outside Xavier)
Mr. McGrath has taught for over thirty years.
Mr. McGrath has a wife who is a molecular biologist.
He has four children: three sons (each of whom went to Xavier) and a daughter (who went to Mercy). Two of the sons work in IT, one is, as Mr. McGrath says, a "struggling artist," and his daughter teaches in the inner city of Boston.
Mr. McGrath went to college at St. John's University and majored in speech and drama. He later went to Catholic University to obtain a master's degree in English.
The Literary Magazine and Performing Arts class both existed before Mr. McGrath came to Xavier. Literary Magazine was previously headed by present English teacher Mr. Flowers, and Performing Arts was headed by a "Mr. Thibeau."
As a teacher, Mr. McGrath values honesty, sincerity, and students doing their best.
Mr. McGrath started his teaching career as a fourth grade Language Arts teacher and moved up along with the class. He remained the teacher of the same group of students for five years until their graduation.
He thinks the current way that Progress Reports are handled is more efficient, but the old way (which involved paper, pencil, and students bringing their progress reports to each class for teachers to comment) had a certain charm to it.
He loves the way music and image are combined in movies to create a truly great experience.
Below is the primary scene that Mr. McGrath can be found in Jaws. Try and find him.