Sister Act: When, Where, and Why?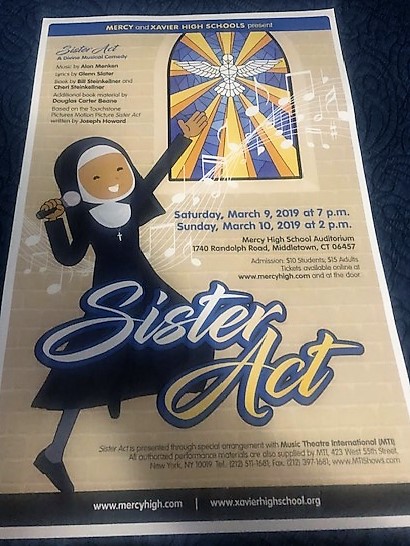 Sister Act is this years Xavier/Mercy Drama Club Musical. It is a Divine Musical Comedy based on the 1982 movie of the same name. It follows Deloris Van Cartier as she is placed in witness protection program at a convent after witnessing a murder by her mobster boyfriend, Curtis Jackson. Upon arriving at the convent, she immediately attracts to the choir and is able to transform the once struggling choir, into a smashing success, spreading the word of the Lord to many people.
Sister Act is headlined by Mercy Junior Maddie Denvir who is playing the role of Deloris. She has had roles in previous Xavier/Mercy productions such as Naja in Anonymous earlier this school year, and Wednesday in The Addams Family last year. Other major roles include Xavier Seniors Sebastian Fazzino and Jordan Leonardi who are playing Officer Eddie Souther and Monsignor O'Hara respectively, and Sophomore Noah Scencina-White as Curtis Jackson. The show also features many ensemble performers from both Xavier and Mercy (including a certain Kevin From The Kestrel) playing everything from Nuns to Thugs. The show is something special and it is a hilarious production that you do not want to miss.
Now for all you interested in seeing the show, the performances are on Saturday, March 9th, at 7:00 P.M and Sunday, March 10th, at 2:00 PM. Tickets are $10 for students and $15 for adults. They can be purchased either at the door or online at www.mercyhigh.com so be sure not to miss this great show and help support all your classmates who have worked so hard to put this production together.