High on Grammies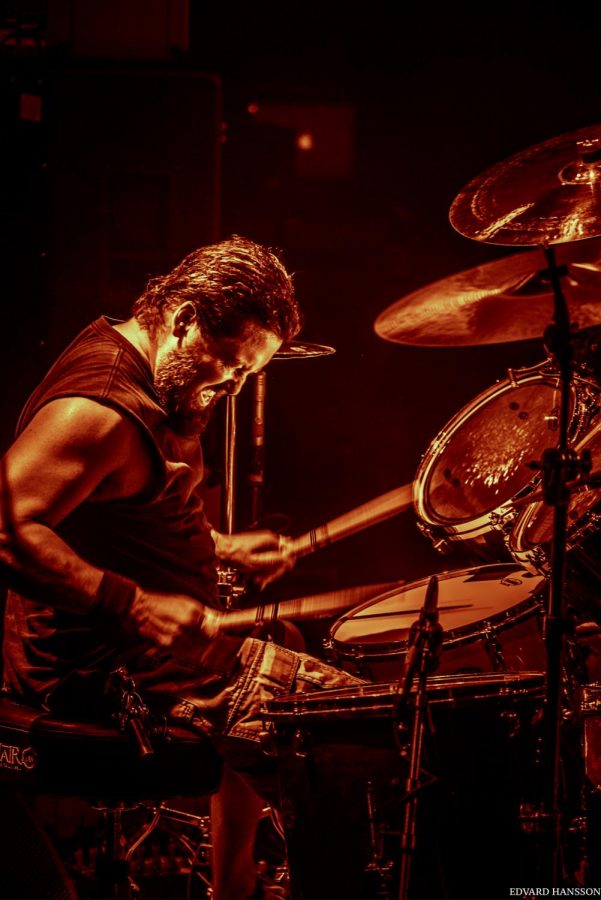 Since 1963, Xavier High School has taught numerous students the virtues of respect, honesty, dedication, and heavy metal. While that last virtue seems quite disconnected, Des Kensel, a Xavier alumnae, recently won the 2019 Grammy for Best Metal Performance with his band High on Fire. I was fortunate enough to interview him, and here is what he had to say about his experiences at Xavier.
Did Xavier High School influence your music? If so, how?
Well I wouldn't necessarily say Xavier influenced my music but maybe it helped influence some of my musical preferences? Back in my time with the school, my interests and influences didn't exactly align with Xavier's ideals. I was stubborn and didn't like being told what to do, like many teenagers. I spent a lot of time in JUG and had lots of visits with Mr. Aiello, Brother Kelly and Brother David (Disciplinarian, Principle and Vice Principle). I had this preconceived idea that everyone was against me hence my interest in punk and metal music. Looking back on that time in my life, even though I thought I knew everything any teenager needed to know and thinking I was so mature for my age, it took some time for me to realize I still had a lot to learn both mentally and spiritually. Xavier High School, and many other good schools, teaches how important the values of hard work and discipline are. I've learned that even in the metal world, those traits still hold true for success.
Are there aspects of your career at Xavier that have propelled your career as a professional touring and recording artist?
One aspect of my career at Xavier that I feel relates to me still today was my time with the Xavier Soccer team. I played all 4 years and even made the varsity squad as a sophomore. Highlights were making the All Conference team my junior and senior years and making the state semi-final game losing to Manchester my junior year. Coaches Marty Ryczek and Jack King were both great coaches and role models. They nurtured and instilled a mental and physical toughness in me that I will never forget. Pride and Sacrifice was the team motto. At the time I thought it was a little cheesy but now it is something I take to heart and will ensure that my children also take that motto to heart as they grow up to be adults. I take pride in all the music I've created and never will settle for anything less than what I believe to be my best. I also have sacrificed a lot to get where I am today, achieve my goals and dreams. I've sacrificed time with my family while on tour trying to provide for them and I've also sacrificed being with family and friends that I've left behind in Connecticut. Sometimes being a professional musician means having to move to wherever opportunity presents itself.
How did you get into music?
I first got into music at a very young age. My earliest memories of buying music were at Caldor's on Washington St. Middletown. I believe I was 6? My mom took my sister and I there for us each to pick out a record. I picked Kiss' Dynasty purely based on the album cover. I loved it, even though it has the "disco hit" on it, and I listened to it constantly. From there I was obsessed with heavy metal music. Next I believe was Ozzy Osbourne's Blizzard of Ozz. My neighbor and fellow Xavier grad of 89', Ricky Greco, was also into metal and his Dad had an extensive record collection in his decked out rock and roll basement. We would listen to metal records for hours while trading baseball cards, playing darts, nerf basketball or games on Atari. Black Sabbath, AC/DC, Iron Maiden, Judas Priest, Kiss, Deep Purple, Ozzy Osbourne, Dio, Motley Crue, Rush… the list goes on and on. I then joined the school band in 5th grade at Moody Elementary School in Middletown. The first song we learned was Michael Jackson's Beat It. It wasn't metal but I was playing the drums and liking it. From there my parents started buying me a drum or two for my birthday, then Christmas and before I knew it I had a working kit. I would switch from buying vinyl records to cassette tapes so I could play along to some of my favorite bands on my Sony Walkman. In order to support my new metal habit/hobby, I started delivering newspapers, The Middletown Press, on my BMX bike and would take the money I earned down to Record Express on Main St. Middletown. They had a great underground metal and punk collection at the time. I did this well throughout my years at Xavier. Playing drums along to music on my Walkman, not delivering the Middletown Press. Ha!
Were you in the school band at Xavier? What about other bands in high school?
There was not a school band during my time at Xavier, at least not one that I was aware of? I had to solely rely on jamming with friends. My best friend David Dowling, also Xavier class of 91', had an older brother Dion Dowling, Xavier class of 87'. Dion played guitar and we would jam in my basement, or his garage if we could get my drums to his house. I drove an 81' Honda Civic hatchback and Dion drove an early 80's Volkswagen Rabbit, neither ideal for transporting musical equipment. We'd play cover songs of whatever we thought was cool at the time. Metallica's Creeping Death was a big one we'd cover from what I remember. Those were fun times!
What were your favorite bands growing up? Favorite drummers?
I couldn't really pinpoint a favorite band growing up. I can remember favorite albums as a little kid though. Iron Maiden's The Number of the Beast, Judas Priest's Screaming for Vengeance, AC/DC's Highway to Hell and Motley Crue's Shout at the Devil were all in constant rotation in my boom box back then. Tommy Lee from Motley Crue was probably my first favorite drummer. He had great energy and knew how to put on a show! A very hard hitter too, I liked that. My first concert was Motley Crue at the Hartford Civic Center in 1983. Then when I first heard Metallica's Master of Puppets and Slayer's Reign in Blood, those two albums were game changers for me. The drumming and double bass work were amazing! The speed and tempos on those blew my mind!!! Dave Lombardo from Slayer was and probably still is my favorite drummer. Then by the time I got to High School heavy metal was getting very watered down. Once there were new genres like Glam metal and Hair metal I wasn't really into it anymore. I really didn't like the popular metal image of the late 80's. I started getting into skateboarding and listening more to punk and hardcore bands. Bands that would take my interest to the next level were The Bad Brains, Black Flag, Agnostic Front, DRI, GBH, and Sick of it All. There was a thriving scene in NYC at the time and I dove into it head first, literally (stagediving)! I then became aware of a live venue in Norwalk, CT called the Anthrax Club where I could see a lot of these bands play live. Going to that place as a teenager would change my life forever!
Which drums do you use? Is specific equipment important to you?
I use Tama drums and am currently endorsed by them. I play a Tama Starclassic maple kit. Tama drums are great rock drums and they have makes and models for all level drummers, I highly recommend them. I also use Vic Firth 2B or 2BX drum sticks. I've started using a stick wrap over the last few years for extra grip when my hands get super sweaty. The grip rips apart my fingers though so I tape up my fingers with athletic tape. Using athletic tape is a trick I learned during my time with the soccer team. I had to tape my toes and ankles up so much before practices and games. That stuff is great!
Did you ever think you would win a Grammy?
Winning a Grammy award was never even a thought! Never even remotely close to being a blip on my radar! Just being nominated was an honor let alone winning the award. What makes the award so special is that the Academy is made up of other musicians and industry professionals like producer's and recording engineers, so being chosen by my peers is an honor I will always cherish.
What genre of metal do you identify High on Fire as?
I identify High On Fire as being a straightforward, loud, organic, raw and aggressive rock band. That is, what I believe to be, why the term and genre heavy metal was originally invented. I'm not sure the term has that same meaning anymore today. High On Fire is definitely metal but I think it interests all fans of all heavy and loud rock and roll music. The only other bands I can think that have done that would be Black Sabbath and Motorhead. If High On Fire are even anywhere close to being as good as those two bands were, or having anywhere near an influence on people as those two bands did, then I can be happy with all the life choices I've made to become the career musician, husband and father I am today.
Mr. Kensel maintains a family life while being an award-winning musician. Xavier's true values gave him that basis, and it is interesting to wonder who the next Grammy winner out of Xavier will be.