Xavier Hockey Preview
Can we surpass last season's results on the ice?
By Calvin Platt, Sports Editor
January 9, 2014
Hang on for a minute...we're trying to find some more stories you might like.
The Xavier Hockey team is coming off of a successful yet disappointing year, as they finished 13-7-2 yet lost in the state quarterfinals to Ridgefield. Ridgefield appears twice on the schedule this year for the Falcons, which will be huge matches for the guys on the ice.* I was lucky enough to chat with three key seniors on this year's team about the upcoming season; Bryan Stanton, John Burkinshaw (captain), and Danny Thompson. Read below to find out why these guys are so confident about the season ahead!
*Editor's Note: As of publication, Xavier had already played both games against Ridgefield and had lost both.
What will the first and second lines look like (for the most part) this year? Who will be the key contributors on the team this year?
John Burkinshaw: Lines tend to fluctuate throughout the year depending on the chemistry and productivity of the players. The key contributors for the offense will be [Andrew] Meoli (Captain), Stanton, [Sean] Johnson, [Cam] Pollock, and first year junior David Piekut.  On defense we return 2 players, Dan Thompson and myself.
Bryan Stanton: The top two lines can't be said specifically at this point but top forwards are Johnson, me, Cam Pollock, Meoli and Hunter Wilcox. With a great loss in defense we might need me to slide back. Meoli, Johnson, Burkinshaw, and I are key contributors.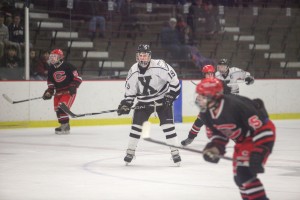 Danny Thompson: I believe that both the first and second lines will be very strong. Key contributors? I would have to say Bryan Stanton, Cam Pollock, Andrew Meoli, David Piekut and John Burkinshaw.
What are some key games to watch for this season?
John: This year the key games will be Fairfield Prep, who's coming off of a state championship win, and Notre Dame-West Haven and Notre Dame-Fairfield, both teams contend every year and should be great games to watch. I encourage everyone to come out and support all the games because it makes a huge difference playing with 200 of your classmates getting rowdy and cheering you on.
Bryan: We have a very difficult schedule at certain points. The biggest in-state games are Fairfield Prep, Notre Dame-West Haven, Hamden, and West Haven. We play some nasty out of state teams such as St. John's Shrewsbury [MA] and LaSalle Academy who are number 1 in Rhode Island.
Danny: As always Notre Dame-West Haven and Fairfield Prep. Also, Ridgefield will be a huge game since they were the ones to knock us out of the playoffs last year.
What's the team's strength? Why is this a strong point and who are some of the standouts in this area?
John: The biggest strength of our team is the depth of our forwards. We have 4 solid lines that should all be big contributors whether it be scoring goals our grinding it out in the corners.  Key grinders this year will be seniors Jack Kelly and Dustin Braman.
Bryan: The team's strength is that Meoli, Johnson, Burk [John Burkinshaw] and I have been playing varsity all 4 years and we have been on really good teams so we know what it takes to win. Passion is going to be key in winning games. With a little less skill to work with we have to out work and intimidate teams by skating hard and finishing our checks. The first year players will have to look up to us and follow our example if they are going to fill empty shoes.
Danny: This year we don't have as much skill so it will be a year of hard work and physical play. When we play physically, teams get scared in the corners and end up letting us beat them to loose pucks. This is also where the hard work comes into play. We're then able to recognize that they're letting up just enough for us to get there before them so we win every small battle. Standouts in this area would have to be Bryan Stanton, Andrew Meoli, John Burkinshaw, and Hunter Wilcox.
What are the biggest challenges for the team to overcome this year? What's the key to overcoming these challenges?
John: The biggest challenge for our team will be developing the new and inexperienced defensemen. The coaching staff is looking for me to help teach and lead the young D. Although inexperienced, they are skilled and will be able to contribute come game time.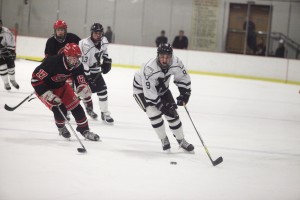 Bryan: We've got some new coaches, which will obviously be a transition. We lost some skilled guys but that doesn't mean we let that deter us, instead we just take that as incentive to work harder. All roads lead to [Fairfield] Prep and we can beat them if we can figure out how to bring 100% intensity to every game. We need to play on edge. We need to take the game to them.
Danny: We have a lot of young/new players to the team this year and they are already showing fear of making mistakes, which will actually hurt us. If we can get them to just work hard and not worry about mistakes I believe we will have a much more successful season.
Question 4: What are the biggest challenges for the team to overcome this year? What's the key to overcoming these challenges?
John: We lost numerous players to graduation and to other programs, but the biggest loss will be Dan Dupont. Not only was Dan one of our best players, but he was also a great leader and captain. Meoli and I were both named captains and intend to fill the shoes of the almighty Dupont both on and off the ice.
Bryan: Well we lost Dan Dupont, Kade [McCartin], and [Evan] Lindquist on defense so replacing them will be our biggest obstacle. Like I said, I might have to move back to defense to help out. We lost serious offense with [John] Gethings leaving, and my brother [Will Stanton] and Ryan McLellan gong to college. We need to practice hard and the returning players have to be leaders for the new guys.
Danny: Probably the leadership of Dan Dupont. And to fill this it's going to take the whole team. Dan was such a large part of the team. Always got us pumped up. Never let us give up. He was just a constant reminder that we were good enough to beat anyone as long as we played as a team.
What would you say is the X-factor for the season?
John: Our depth by far. Most teams have trouble putting together 2 decent lines but we'll be able to roll 3 maybe 4 lines, keeping our players fresh.
Bryan: The X-factor is going to be offensive production from our big names, and holding the fort on defense.
Danny: Oh that's easy. We need to make sure our players stay out of trouble.
Are there any underclassmen to watch for?
John: Although only a sophomore, Cam Pollock should be one of the biggest contributors to the offense. His speed, smarts, and hard work will allow him to undress many opposing defenses this year.
Bryan: Cam Pollock is a sophomore and David Piekut is a junior.
Danny: Maybe the offensive Reid. Not sure which one that is though. And maybe Collin O'Donnell and Gordon Gurnell.
What is your prediction for the season and why?
John: In my eyes anything less than a state championship will be a disappointment. A lot of people consider this a rebuilding year but after playing in two games and watching our team compete I'm extremely optimistic for what this season has in store.
Bryan: I predict a state championship, obviously.
Danny: I think we are going to have a great season because we don't have a lot of skill and that is what has hurt us in previous years. Everyone wanted to do it himself. But this year we have to work as a team to win. Also, a lot of teams lost huge contributors to the team and are lost without them.