The Top 10 Second Baseman for the 2022 season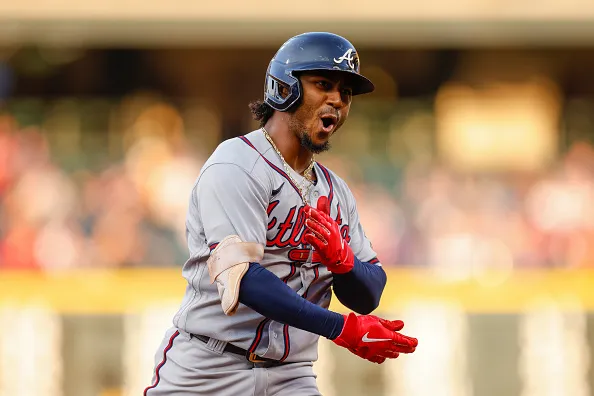 Second base is deeper than ever this year. A logjam at shortstop — there were more talented free agent shortstops than there were teams that needed someone at the position — pushed talent over to the second base. With a loaded second base this year, this is the hardest list to rank out of all the positions. Now, without further wait, let's get into the list.
10. Jonathan India, CIN (21 HRs, .269 BA, .376 OBP, .459 SLG)
This rookie made a splash in his first season despite his defensive struggles. Despite his -7 OAA, he thrived in offensive firepower with a 126 wRC+, a .326 average on balls in play, and a .190 ISO (a stat to measure power). India won't have as much of the offensive firepower around him, with Castellanos leaving in free agency, and Winker and Suarez being traded away, but he is a bright spot for the Reds who, with their moves in free agency, don't look like they're headed in the right direction.
9. Jorge Polanco, MIN (33 HRs, .269 BA, .323 OBP, .503 SLG)
The switch-hitting slugger had a breakout in 2021. He never really was a great defender (career -1 DRS, and -7 OAA), but he's a great hitter, upping his exit velocity and launch angle while keeping his strikeout rate low and his walk rate high. Polanco did play shortstop for a while but with Andrelton Simmons at shortstop last year, he moved over to second to fill a gap. He took that position and ran with it. Polanco is going into his age 29 season, meaning he's headed towards a downslope by many standards. But if his 2021 is a preview of what's to come, then Twins fans should be excited for what this season has in store for Polanco.
8. Max Muncy, LAD (36 HRs, .249 BA, .368 OBP, .527 SLG)
The former first baseman now slides over to second after the Dodgers acquired Freddie Freeman in Free Agency. While many first basemen aren't the most athletic when it comes to defense, Muncy is one of the exceptions. With the exception of 2021, Muncy has had a positive OAA when playing at second base, and even if the position change, his bat will remain unchanged. His ISO is nearly identical to his batting average, and his wRC+ ranked 8th among all first basemen (140). The bat is there, the glove is there, but we have to see it over a full 162.
7. Trevor Story, BOS (24 HRs, .251 BA, .329 OBP, .471 SLG) 
Story has appeared in the field around 735 times. Every single time, he appeared at shortstop. Story's production took a dive in 2021 with his lowest career numbers in HRs, batting average, and on-base percentage, but he's leaving Coors Field and going to Fenway Park which is ranked second in the park factor stat behind Coors, and looking at his 2021 spray chart, he will pepper balls off the green monster in Fenway. With the position change, it gives his arm a chance to elongate after Tommy John and put off surgery until he gets into the offseason post-contract year. Story legitimately has a chance to cement himself as a top player in baseball moving from Coors to Fenway in 2021.
6. Jake Cronenworth, SDP (21 HRs, .266 BA, .340 OBP, .460 SLG)
Cronenworth is listed as one of the few great utility men left in baseball. His primary position is second base, but you can slide him over to first or shortstop and he'll be just fine. Offensively, he was one of the more average hitters, especially at second base with a 116 wRC+ (5th among 2B) and a .194 ISO (15th among 2B). Cronenworth isn't the best defender at the position, but he is by no means a bad defender, sporting a -1 DRS in 2021. Cronenworth, despite his defensive issues, has a chance to really break out offensively in his first fully healthy 162.
5. Ozzie Albies, ATL (30 HRs, .259 BA, .310 OBP, .488 SLG)
Albies is the fifth-best second baseman in baseball. The major difference is his splits vs RHP and LHP. His triple slash vs RHP (batting average, on-base percentage, and slugging) was .237/.295/.454. Against left0handed pitching, his triple slash was .323/.354/.585. He was a replacement-level 2B vs right-handers and an MVP candidate vs left-handers. A similar issue happened to CF Cedric Mullins, who switch-hit until 2020 and in 2021 had a 30 homerun, 30 stolen base season batting left-handed. Many brought up this argument when talking about Albies's status as a second baseman. Albies now has a chance to be at the forefront of the Braves offense with Freddie Freeman gone and I believe Albies will take that chance and make the step up to superstar and possibly be higher on this list a year from now.
4. Brandon Lowe, TBR (39 HRs, .247 BA, .340 OBP, .523 SLG)
Lowe is a superstar, plain and simple. Despite leaning more towards the three true outcomes of baseball (K, BB, HR), the hitting aspect of his game is just so good. 114 max exit velocity, .277 Isolated Power (ISO), 137 wRC+ (3rd among 2B), and a .280 Babip (batted ball in play average). The defense isn't outstanding but it's doable with -4 OAA and -7 DRS. Lowe is in a team where there are a lot of very young players, himself included, but he will continue to be an overall solid second baseman and help this Rays team contend.
3. Ketel Marte, ARI (14 HRs, .318 BA, .377 OBP, .532 SLG)
Ketel Marte is the third-best second baseman in baseball. He split a majority of his 95 games in 2021 between second and center field, but he does both so well. Instead of L/R Splits like Albies, his triple slash is a lot better and more consistent. His last full season's triple slash looks like this: vs LHP .338/.368/.630, and vs RHP .327/.396/.577. Looking at the splits and many other factors, you can say that Marte has been fantastic no matter what side of the plate he is hitting on. The defense isn't fantastic but it'll do with a -5 OAA at CF and a -2 OAA at 2B (-15 DRS combined at 2b and CF). Marte just recently signed an extension that saw him bypass his final year of arbitration and lock up the franchise cornerstone for the long term. When Marte plays second base, he's a premier player at the position and with some outfielders being acquired by the Diamondbacks in the 2021-22 offseason, he may make the move to full-time second base.
2. Jose Altuve, HOU (31 HRs, .278 BA, .350 OBP, .489 SLG)
It seems like Altuve is on this list every single year, which he is because he's just that dang good. Since entering the League in 2011, Altuve is a seven-time all-star, a five-time Silver Slugger, a World Series Champion, a Gold Glove winner, a three-time batting title winner, and the 2019 ALCS MVP. That's one incredible resume for a guy who is still only 31. Altuve's glove is there also. Altuve had 5 OAA this season and -3 DRS at 2B this year. He is one of the very few elite five-tool guys remaining in the sport, as he can hit, hit for power, run, field, and nearly everything in between.
1. Marcus Semien, TEX (45 HRs, .265 BA, .334 OBP, .538 SLG)
Simply put, Marcus Semien rakes. He's coming off a season in which he saw career highs in homeruns, RBIs, Stolen Bases, Slugging, ISO, and WAR. Semien's glove is also fantastic. In a full 162, Semien had 7 OAA and 11 DRS (2nd best at 2B), his career-best defensive numbers. He's durable, he can field, he can hit, he can hit for power, and can do a lot of other things incredibly well, and that is why Marcus Semien is the best second baseman in baseball.