Walkathon 2022
Walkathon 2022
In 2022, Mercy and Xavier are renewing an old tradition between the two high schools for a second time this decade.  Like last year, Xavier will be hosting Mercy for a fun-filled Walkathon Day on Friday, October 21 for each school's students, faculty, and staff.
Starting on Friday September 30, both Mercy and Xavier students began raising money for their school's annual fund.  The annual fund for each school pays the expenses of all of its clubs and activities. Xavier students set up their fundraising pages and begin sharing links with families and friends throughout their own community.
The two schools are using this fundraiser as a competition. The main goal for both schools is to raise $100,000 for their Annual Fund while also raising more money than the other school.  However, not only are the Xavier men trying to exceed their sister school's total, but they are also trying to beat one other.
Fundraising Incentives
There are plenty of incentives to motivate the Xavier students to fundraise this year.  The top student fundraiser will be awarded with $200 in cash.  The top 11 and 12 Grade fundraisers will receive a free ticket to their prom.  Meanwhile, the top Ninth and Tenth Grade fundraisers will receive a free ticket to their semi-formal. Any student that reaches their goal will be entered into a raffle for a $500 Best Buy Gift Card.
As the fundraising campaign goes on, students have the ability to earn free dress down days over the course of the coming weeks.  By the end of the day Thursday, October 6, the Xavier students earned their first dress down day as a result of smashing the $25,000 goal for the first week by raising a total of $33,585 in just six days.  However, there is still a long way to go before we can meet our goal of $100,000 and beat Mercy which has over $85,000 as of Thursday, October 13.
If the Xavier boys can raise at least $50,000 by Friday October 14, and $75,000 before Wednesday October 19, the students can earn another two more dress down days. Last Friday, October 7, Mr. Jaskot offered the goal of $45,000 by the time school started on Tuesday, October 11. By achieving this, the Xavier boys earned three days of dress down that week. And of course, if the students can reach their goal of $100,000 by Friday, October 21, there will be no classes the Monday immediately following the Super Bowl.
History of the Walkathon
Xavier and Mercy began this Walkathon tradition in the fall of 1974. That year, both schools brought in about $15,000 combined. Today, that equals just about $90,000.  Back then, all the money raised was divided in half, each school getting one half of the total.
For more than 20 years, the Mercy and Xavier students walked up and down Randolph Road here in Middletown. Larry McHugh, President of the MX Development Corporation, said "We wanted an event that both schools could get involved in, and we came up with the idea of a walk-a-thon."
Many of our own Faculty and Staff are Xavier Alumni who participated in the old Walkathon.
The Xavier/Mercy Walkathon continued into the late 1990s before administrators at both Xavier and Mercy agreed that the activity was unsafe. So, the schools would have to raise money some other way. Today, with new safety precautions, the Walk-a-Thon is back in motion.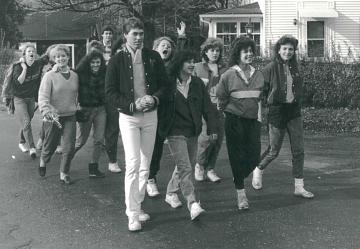 (Walk-a-Thon returns – A walk down memory lane: Mercy High School)
In 2021, the Walkathon returned to the Xavier /Mercy community, and was held on the track surrounding Larry McHugh Field. Students, who were filled with spirit, began to rapidly raise money for their school.  Now, as we prepare for another Walkathon, the Xavier students really need to pick up their pace, in order to beat the Mercy girls. Just as Mr. Brendan Bell '05 said on the announcements, "Every journey begins with a first step. Go Falcons!"