A+ Apps
Modern-day technology has forever changed today's student.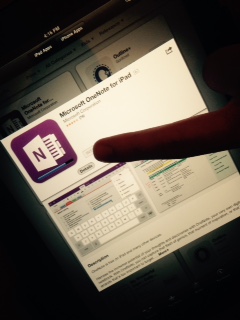 Ever feel too stressed over school? From sports to clubs, to just managing your grades and organizing your notes, life as a student, at times can be more than overwhelming!
Modern-day apps for smart-phones and touch pads have begun revolutionizing the world. Ranging from medical needs, to games, to social media, to the simply zany, the number of helpful and entertaining apps is growing everyday. With that said, many app developers are expanding their horizons to meet the needs of the average, everyday student. Utilizing the apps listed below, you the student, can make your life easier in a variety of ways. Whether by assisting with organization, or by improving review techniques, the following apps all have the ability to improve the educational experience. The best part is that all of these apps are free!
*NOTE: the apps mentioned are for the Apple app store*
1.  OneNote
Microsoft's famous OneNote is one of the world's most popular note taking system. Having the ability to sync to the internet and access notes on different devices has given students a distinct edge.  Microsoft added to that by adding an app that gives iPhone and iPad users the advantage of bringing their notes practically everywhere. If your car ride study crammer or editor, this is the app for you.
2. Office Mobile
On top of the OneNote app, Microsoft also released the Office Mobile app. This app allows users to sign in with their Microsoft account and the power of Office: Word, PowerPoint, and Excel in the palm of your hand! Once again, this app is excellent for the multi-tasker who wants to work during every spare moment of the day.
3. STUDYBLUE
As a Consumer Reports recommended app, STUDYBLUE aims at helping you pass that upcoming test. Create flashcards to quiz yourself or choose some from other students. You are also able to track your progress to better help boost your grade.
4. Dropbox or Onedrive
Ever need a place to store your document but don't your thumb drive around? The OneDrive and Dropbox apps are able to store your documents in a cloud based system meaning you can take all your documents, pictures, and music anywhere!
With these apps as well as many others the number of student-friendly applications is growing. Using these apps as well as others gives your the ability to take all of your work with you and store it all on one device. Although classes can get stressful, these apps to made to organize all your notes, documents, etc. for easy access and for better grades. With this said, take advantage of these tools and go beyond the boundaries of the everyday student.