How JuJu Smith-Schuster Became the Most Hated Player in the NFL
Steelers' wide receiver JuJu Smith-Schuster was once a sports icon. His brand expanded to the football field, to video games, to dancing, to social media, and beyond. Everyone loved JuJu, yet that is no longer the case. He is now the target of an immense amount of hate from NFL fans nationwide. So, what happened to the star receiver?
The year was 2019. Drama surrounded the Pittsburgh Steelers, as their star receiver, Antonio Brown, was traded to the Raiders. The extent of his off-field issues was not known at the time, but he still caused quite a stir over Twitter. Brown targeted one of his former teammates specifically: JuJu Smith-Schuster. Brown called JuJu out for fumbling in a crucial drive against the Saints that could have helped the Steelers into the Playoffs. JuJu responded with admirable restraint, to say the least.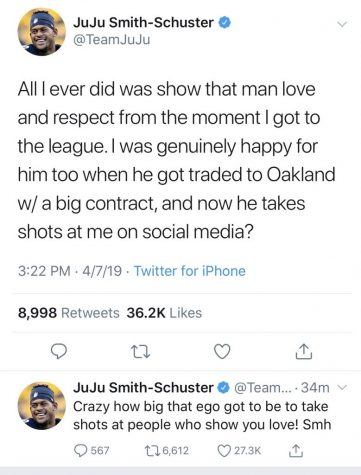 Image from Twitter/TeamJuJu
JuJu earned plenty of respect from NFL fans that day, and some called him the most-liked player in the NFL. Besides, he had over 100 catches and over 1,400 yards that season, so Brown's criticism seemed pointless and acrimonious. The Twitter beef between Brown and JuJu would continue, but that isn't my point. My point is that everyone became a fan of JuJu that day. He already was likable, as he streamed Fortnite and flashed some of the best dance moves in football. As a rookie, he rode his bike to practice. His great on-field performance that year only helped his reputation. Overall, it was impossible to hate JuJu back then.
Flash forward to 2021, and all that has changed. JuJu has become the subject of a vast amount of criticism, negative tweets, and Instagram memes. Why? His use of the app called TikTok was what started the hate. It began on November 8th, when the Steelers' star did a TikTok dance on the Cowboys' logo at midfield. From there, Smith kept going, as he also danced on the Jaguars', Bills', and Bengals' logos prior to their respective games. This action angered all NFL fans alike. The disrespect Smith showed rubbed a lot of people the wrong way. To younger NFL fans, JuJu is now simply known as "TikTok Boy".
Things only got worse from there. JuJu did stop dancing on the team's logos, but his arrogant image continued to grow. JuJu said this about the Browns prior to their Wild Card matchup:
"I think they're still the same Browns teams I play every year. I think they're nameless gray faces. They have a couple good players on their team, but at the end of the day, I don't know. The Browns is the Browns."
The Steelers went on to lose to the Browns 48-37. Yikes. The Steelers' struggles went beyond that, though. After starting the season 11-0, Pittsburgh went 1-5 for the rest of the season (including the postseason). Could the cockiness of JuJu have overinflated the egos of the entire Steelers team? Probably not, but it is interesting that the Steelers started to falter when JuJu's antics became out of control.
So, what's next? Smith will be an unrestricted free agent after this season, and there's a very good chance he'll leave Pittsburgh. From the Steelers' standpoint, they already have young receivers in Chase Claypool, Diontae Johnson, and James Washington. Besides, Steelers brass has to be wary of JuJu's antics. From JuJu's perspective, it's likely that he'd find more money elsewhere. With Pittsburgh's lack of cap space, teams like the Jets, the Patriots, or the Dolphins will have more freedom to make an offer. It doesn't seem like a lot of sense for the two sides to stay together, but only time will tell.
The bottom line is this: JuJu has always been a fun-loving, vibrant character. People loved him for this, but now they hate him for this. Maybe a change of scenery would rejuvenate JuJu's image, but for now, his situation remains a mystery.